If there is an emergency or criminal offence underway, please call 911 or contact the RCMP.
---
 We recognise the importance of feeling safe and secure in your home or business. Council is committed to working with the community and local law enforcement to ensure that all residents, businesses and industries feel safe and supported. 
Saddle Hills County Peace Officer
Roles & Responsibilities
The County currently has one Peace Officer on staff, working approximately 40 hours a week. This time is divided into shifts, weekday and weekend, daytime and evening, and is split between the office and the seven wards.
Our Peace Officer's duties centre around education and bylaw enforcement, they do not enforce criminal code violations. Criminal code violations include things such as theft, break and enter, domestic abuse, assault, and drug offences, among other more serious crimes such as homicide.
The Peace Officer is responsible for enforcing the County's bylaws and policies. Peace Officer's monitor traffic on all County roads, excluding provincial Highways 2 & 49, for offences such as drunk driving and speeding. They also patrol for safety violations by commercial vehicles, such as improperly or unsecured loads, and will often provide support to other departments in the completion of their duties around the County, such as accompanying staff on home visits.
Contact or File a Complaint
To contact the Peace Officer, or file a complaint about a Bylaw infraction, please call the dedicated enforcement line at (780) 506-0109. You can leave a message here and someone will get back to you as soon as possible. 
RCMP
In case of an emergency please dial 911. 
Saddle Hills County is served by the Spirit River Detachment located at 4501 50th St., Spirit River, AB. T0H 3G0. They can be contacted directly at their non-emergency number (780) 864-3533 and are open Monday-  Friday, 8 a.m. - 4 p.m. for in-person enquiries and complaints. 
The Royal Canadian Mounted Police (RCMP) are responsible for investigating all criminal code offences. 
Reporting a Crime
We encourage all residents, businesses and industry to report all crimes to the RCMP to help them gather accurate data which will enable them to provide services accordingly. 
You can report a crime by calling 911 for emergencies, (780) 864-3533 for non-emergencies or by filing a report online. 
For Oilfield representatives who wish to report a crime at a site please complete an Oilfield Crime Occurance Report.
RCMP App
The Alberta RCMP have launched a brand-new app for mobile devices, available on iOS and Android through the app store, called 'Alberta RCMP'. The app allows them to provide the public with online access to news, crime reporting, detachment locations, crime mapping and statistics, and a map for initiatives like Project Lock Up. It also provides access to partner law enforcement services, mental health supports, Crime Stoppers and links to AB RCMP social media accounts. More information can be found in the RCMP Press Release.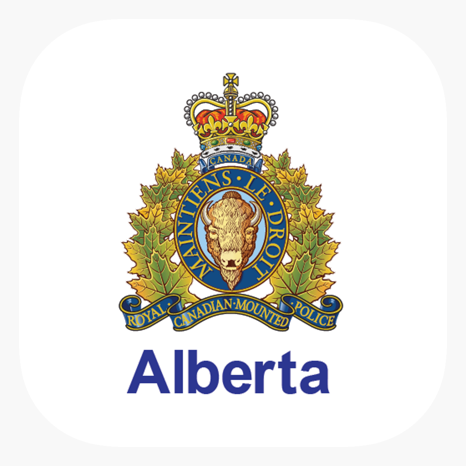 Download from the Apple App Store
Other Resources
Alberta Rural Crime Watch App
For those interested in further crime reporting and information resources there is an 'Alberta Rural Crime Watch' App available with information on online crime reporting tools, RCMP boundary maps, safety tips, and social services contacts. For more information visit the Alberta Rural Crime Watch website.
Download from the Apple App Store
CAPTURE - Register your Security Camera
You can register your security camera through CAPTURE (Community Assisted Policing Through Use of Recorded Evidence) to assist police in investigating crimes, such as property theft.
The registration is voluntary and secure and only requires the location of your property and where cameras are situated. To register your camera, visit www.ruralalbertacapture.ca.
Sign up to our Newsletter
Stay up to date on the Saddle Hills activities, events, programs and operations by subscribing to our eNewsletters.