Saddle Hills County is a rural, farming community at heart.
We are mainly hard-working, independent farmers and agricultural producers, situated in the Central Peace Region of northwestern Alberta.  Bordering the southern banks of the beautiful Peace River, right at the center of The Montney Gas Formation and connected to major transportation routes it is an ideal centre for northern growth. 
The oil and gas sector has been at the heart of much of our economic success for the past several decades and Saddle Hills County has proven to be a welcoming home for industrial growth.
Why choose Saddle Hills County?
Land & Crops
Saddle Hills County is a large, rural municipality, roughly 5,837 sq. km. For scale, Prince Edward Island is 5,660 sq. km.
We are comprised of 381 farms, which equals 535,279 acres of farmland. These farmers produce 29,141 metric tonnes of peas and 15,765 metric tonnes of canola annually. 

Agricultural Services
We pride ourselves on our amazing Agricultural Services Department who are responsible for many things, including weed and pest control, within the county. Our vigilant approach towards weed and pest management helps to ensure the high quality of our crops.
UTILITIES
Water
Providing reliable and safe potable water to our residents and businesses is incredibly important to Saddle Hills County. For the past 5 years we have been developing our rural potable water initiative, providing approximately 150 households and businesses with water, and installing 320 km of pipeline.
We are in the process of being able to draw an unlimited supply of water from the Peace River. In 2022 Saddle Hills County was granted a $2,000,000 grant for the design of a Central Peace Regional Water Treatment Plant to aid in this process. The $40,000,000 Central Peace Regional Water Project is scheduled to take 3-5 years and will provide safe, potable water not just to our residents but also to the neighbouring municipalities. 
Saddle Hills County is served by 4 local water treatment plants in Bonanza, Ksituan, Savanna and the Hamlet of Woking.

Natural Gas
Saddle Hills County is at the centre of the Montney Play, making it one of the biggest natural gas reserves in North America and is home to many industrial gas plants. Homes and businesses are served locally by the Central Peace Natural Gas Co-op and Birch Hills Gas Co-op.  

Waste
Saddle Hills County has an agreement with the Clairmont Landfill for disposal of waste by Saddle Hills County residents and businesses. There are also Class 2 landfills available in neighbouring County of Grande Prairie and the Municipal District of Greenview. 
We have a well-developed internal waste management structure, and a specialized Environmental Services Department, with 4 transfer stations and 7 collection sites.
TRANSPORTATION
Roads
Highway 2, Alberta's second longest highway and the Gateway to the Northwest Territories, and Highway 49 run north to south, east to west through Saddle Hills County. Due to the large oil and gas presence in the region these corridors are used regularly by heavy duty vehicles and well maintained by the province.
We have an extensive local road network, maintained by a large fleet of municipal graders and gravel trucks, used by local farm traffic and industry on a daily basis. 
Rail
Saddle Hills County is on the CNR rail line adjacent to Highway 2, connecting us to Edmonton, AB and the two major western ports of Vancouver, BC and Prince Rupert, BC.
Air Travel
Regional airports can be easily reached in Spirit River, AB (32 km), Dawson Creek, BC. (67 km), Fort St. John (141 km) and Grande Prairie, AB (110 km). Daily flights to international hubs, such as Calgary, Edmonton and Vancouver can be found at the Dawson Creek, Fort St. John and Grande Prairie locations. 

COMMUNITY
Workforce
The larger Peace Region offers a population of around 42,445, with a workforce of approximately 30,772 people. Due to the large oil and gas presence and the Site C Dam, there is also a significant transient worker community in the area.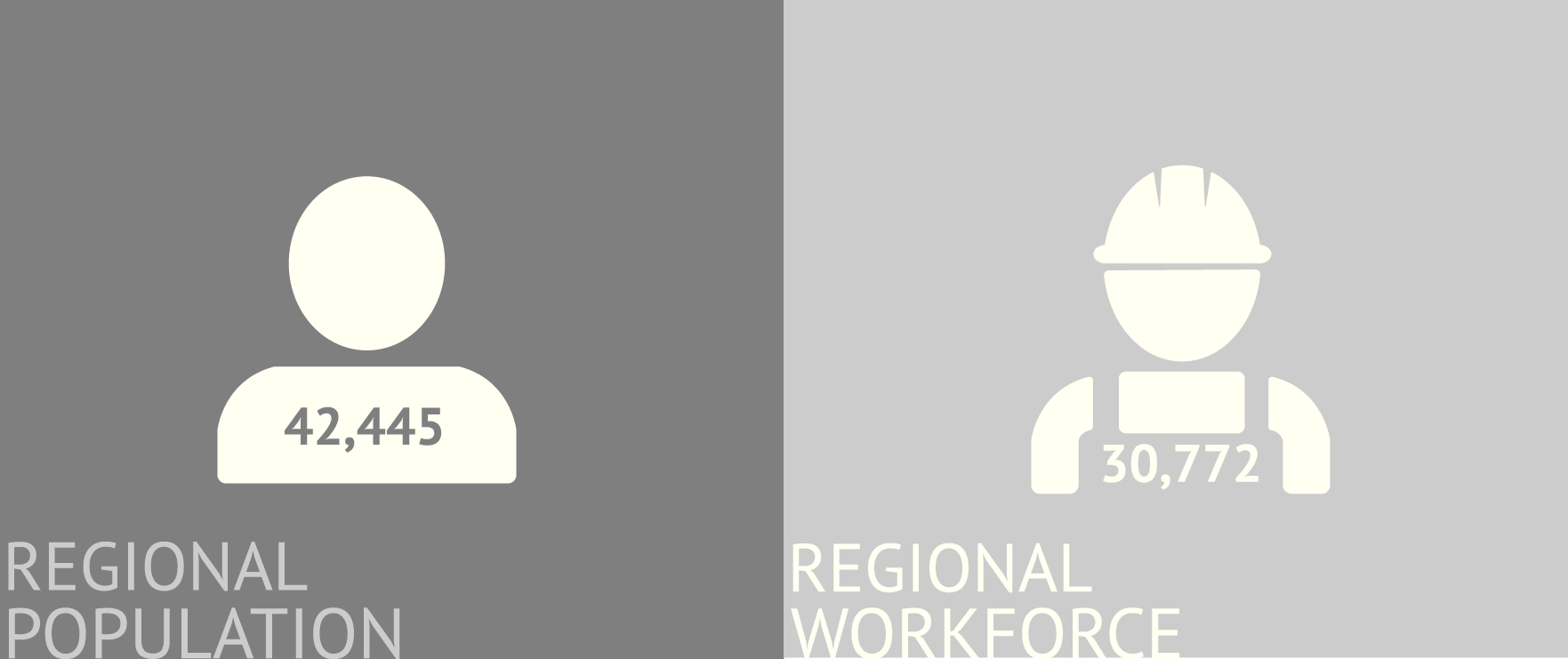 Cell Service & Internet
For a rural community Saddle Hills County has amazing cell service. We run a cell tower network of 9 towers, offering co-location services to major industry in the area.
Emergency Services
Saddle Hills County has 5 volunteer fire departments, manned by a large contingent of amazing local firefighters and medical first responders. Our modern, fully-equipped fire halls are in strategic locations throughout the county (Bonanza, Blueberry, Happy Valley, Savanna and Woking) to allow us to provide rapid and effective response for industry, forestry, business and residents. We also provide support to neighbouring communities, such as the Tomslake Fire Department, BC to ensure the safety of the whole community.
GIVING BACK
Saddle Hills County is aware of how important it is to give back to the community that sustains us. Council regularly give grants to local, and area, community organizations, individuals and students and provide financial help to our neighbours, throughout the Central Peace. We believe that if it benefits one of our communities it benefits us all.
As a rural community residents can find it stressful to consider medical emergencies and the needs of their families as they head into old age. Saddle Hills County is the major supporter of STARs Air Ambulance in the area, giving a yearly donation which has helped to improve the fleet and services for northern residents and industry. We have taken the lead in building the state of the art Central Peace Medical Centre and Central Peace Seniors' Housing Project, located in Spirit River, to ensure that families can stay together in the communities they helped to build. 
NOTE: There are low provincial tax rates and no business taxes or licensing fees in Saddle Hills County.
communications@saddlehills.ab.ca
1 (888) 864-3760  
Explore Economic Growth Opportunities
Explore Community & Tourism 
---
Sign up to our Newsletter
Stay up to date on the Saddle Hills activities, events, programs and operations by subscribing to our eNewsletters.